Introspection
I've been doing some thinking lately.
Nothing Earth-shattering; just some ideas about how best to focus and apply my creative impulses and ways to use my limited free time. I'm not sure if thinking about creativity can be considered creative thinking, but I'm at least trying to be creative as I think of creating new ways to highlight the things I've created.
Got that?
Anyway -- I've made some decisions and set some goals that I want to accomplish in the upcoming new year. And since my I consider this blog to be geared toward
"the creative outlet"
of your humble author, all these decisions and goals will eventually impact what you see here. Again -- nothing major, but looking ahead, I want to give you a heads-up that I have some new things planned for my blog.
I'll give you more details on the results of my introspection as we get closer to 2015.
Music
And speaking of introspection:
I recently took a (post-joyful-and-gluttonous-family-feast) free moment on Thanksgiving two weeks ago to download another very cool jam from
wikiloops
and to lay down a simple rhythm guitar track over it. Then, the next day, I quickly added two more guitars and came up with this piece, I call,
"Thanksgiving and Introspection."
I loved the mix of drums, flute, and keys that "MrAdamOnDrums" had set up in the jam, and found it a very fun thing to play over. I think the result end up being a little spacey and... um, introspective?
Feel free to click on the link in the title or on the
StratoRaptor
icon to the left in order to check it out. I'm very thankful for you taking the time today to listen!
BOTB Results
And speaking of today:
This is December 9th!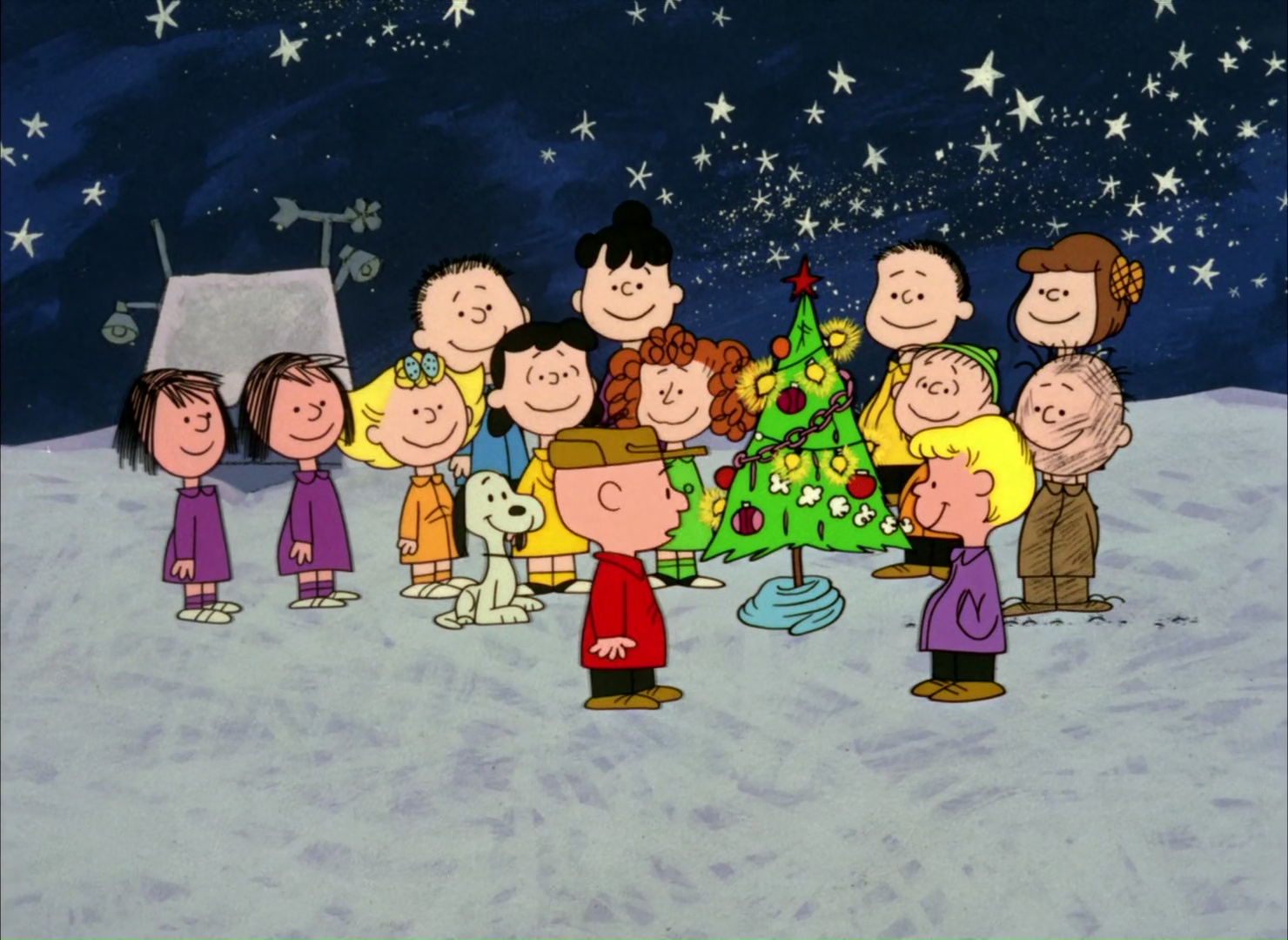 Did you know that 49 years ago, on this day in 1965,
A Charlie Brown Christmas
made its TV debut on CBS???
I've twice used music from this wonderful Christmas special in previous Battle of the Bands (BOTB) posts -- last year for
my first BOTB post
, and in my
most recent one from last week
. There, I pitted two live guitar renditions of
"Linus and Lucy"
against each other. Gary Hoey played one and Danny Gatton the other.
I'm glad that both versions received some votes, but I'm also not surprised that Danny Gatton got more. To my ears, it's easily the better version.
Yes, I gladly admit that Gary Hoey has talent -- he has chops galore and does a rocking, somewhat interesting version -- framing the piece with the Hendrix-esque opening and closing riffs, adding room for the bass and drums to add fills, and offering plenty of wah-wah shredding. But somehow, it just doesn't quite grab me. It feels too pre-canned, too generic, too artificial. From saying the song is, "by Charlie Brown" (I think you mean "Vince Guaraldi," Gary -- Charlie's a cartoon character) to blandly pointing at the drummer during every break (okay -- yes, that's a video criticism, not an audio one, but it matches the effect I get from the lackluster interpretation), it just seems put-on to me. It's like Gary's not really feeling it -- it's flashy, but he's just going through the motions. No, I can't fault his technical ability and respect him for it, but the delivery still seems blase.
On the other hand, Danny Gatton seems to be riding a wave at a break-neck pace, teetering on the edge of disaster, careening around those frets with heartfelt abandon. It feels like even
HE
doesn't know what note's coming next. I picture him smiling with a,
"Whoa! Did I just play that?!?!"
expression on his face. Maybe that's not the case -- he might have played that ending medley a gazillion times exactly the same way -- but it
SOUNDS
like it's new and exciting. It feels to me like he's serving it up with his heart and soul in every measure of the tune. And the playing is exemplary as well, even more-so than Gary Hoey -- Danny's is fast, expressive, and full of nuance, even at blinding speed. Gatton's not just regurgitating the riffs he's drilled into his subconscious through rote repetition -- he's fully in-the-moment, expressing a range of emotion, and having fun with the audience.
Even if Danny Gatton was
less
proficient on the guitar than Gary Hoey (and I submit Danny is clearly much
MORE
proficient), I'd still vote for feeling over flash.
So -- just in case you couldn't tell, I'm adding my vote to the Gatton group to seal the win:
Danny Gatton -- 8; Gary Hoey -- 4.
Thanks for visiting!
I invite you to come back on the 15th for another Christmas-themed, special Battle of the Bands.